New Feature!
Remote File Access: Ever wish you could access your computer files from abroad? With Carbonite, you can securely access any of your backed up files from any computer wherever you are. Convenient, Safe & Secure.
Will you survive a PC disaster?
43% of computer users lose irreplaceable files every year.
Don't let it happen to you. Try it absolutely FREE!
Now Available for Macs Too!
Concepts 'n' Creations has partnered with the world's leading online data backup company, Carbonite, to bring you the safest and easiest to use online backup system available today for your PC.
Backup Features and Benefits
Unlimited storage capacity for one flat annual subscription fee – back up all your data files or just the ones you want with no size limit
Strong encryption protects your privacy - Files are encrypted twice before they ever leave your PC and remain encrypted while stored at our secure datacenter
Automatically, continuously finds and backs up your irreplaceable files, e.g. photos, documents, music, and emails
Set and forget – automatically detects and backs up new and changed files
No need to schedule backups, however scheduling options are available for advanced users
File versioning – allows you to restore any of several previous versions of a backed up file
Backs up open files
Block-level incremental backup – when files change, only the changes are backed up
Silent when computer is in use – never slows it down Backup status information and restore functions integrated with Windows Explorer
Carbonite uses state-of-the-art datacenter facilities with carefully temperature-controlled rooms, backup generators, restricted personnel access, and other features to protect the security and integrity of your data. Your encrypted data is stored in redundant files on multiple disks and is checked regularly for file integrity.
Restore Features and Benefits
Restore any file with just a few clicks from Windows Explorer ("My Computer")
Restore everything, or just selected files or folders
Restore Wizard guides you through the process of restoring files to a new computer
Restore multiple versions of a file (e.g., last Tuesday's version of a presentation)
Restores 10-20GB per day over DSL or Cable (depending on the speed of your Internet connection)
What the Experts Say:
"Carbonite Online PC Backup is a worthy investment of time and money…
a hands-off solution to backing up…"
-CNET
"It's the easiest online backup software to use – in fact, to not use, since it's completely automatic."
-The New York Times
"Carbonite can provide the equivalent of fireproof safety deposit box for digital content…"
-The Associated Press
"You'll sleep better at night."
-The Wall Street Journal
Protect yourself now with Carbonite Online Backup
Online Backup
---
Peace of Mind for only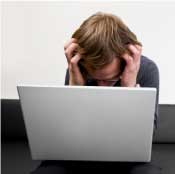 Affordable online backup for your small business.
Only $59/year
for unlimited backup.
Try it free!
---
Each $59 subscription will protect one PC or Mac for one full year.
Carbonite does not currently backup external or networked hard drives.
Files must be restored to the same place as they were backed up from unless they are being transferred to a new/replacement computer.
Check back soon for External drive & Network drive backup options.
Questions? Email us